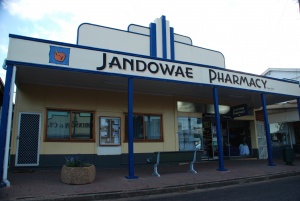 Jandowae Pharmacy Opened in it's present site in 1935. There have been a number of owners starting with with A. H. "Sandy" Cameron, then Gordon Harding,  Morrie Farmer, Sharon Baker, and currently Sharon has partnered with Michael Watson who is the managing pharmacist on site.
Jandowae pharmacy is a full service pharmacy carrying a full range of pharmaceuticals and OTC (over the counter) medications. In addition Jandowae Pharmacy carries a large range of gifts.
If you are looking for a wedding present, birthday gift, baby need, or souvenir we are sure to have something to assist.